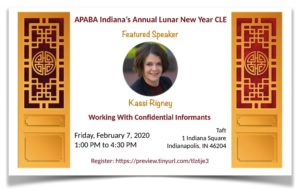 Join attorney Kassi Rigney at the Asian Pacific American Bar Association of Indiana's Annual Lunar New Year CLE. Mrs. Rigney will present on Working With Confidential Informants on February 7 at 1:00 PM.
Topics Discussed at this Event
Confidential Informants (1 general CLE hour) by attorney Kassi Rigney of Rigney Law LLC
Fertility in Domestic Relationships & Partnerships (1 general CLE hour)
Ethics (1 Ethics hour)
To register, click here.